Underfloor Heating System Panels
Manufactured from waste stream polymers, e4 produces Underfloor heating panels for securing 15mm and 16mm diameter piping at accurate centres of 50mm and 100mm. The utilisation of recycled polymers contributes to the achievement of BREEAM rating by the reduction of carbon emissions.
Easy to fit  –  Reduces insulation time
Covers 1 sq m  – easy to calculate and minimum waste
Eliminates pipe contact with insulation
Even temperature distribution
1220mm x  820mm  Fits Standard Pallet size for easy storage
Standard Castelated Panel- 1220 x 820 x 30mm  – 100mm centres – 15/16mm dia pipe
Low profile Castellated panels 1220 x 820 x 20mm – 50mm centres – 16mm dia pipe
Low profile – 1220 x 820 x 20mm – 50mm centres – 16mm dia pipe
Ultra Low profile Castellated panel – 1220 x 820 x 15mm – 50mm centres – 12mm dia pipe
Castellated Panels with EPS insulation
XPS-FR 400 Kpa overlay 18mm & 25mm
XPS Cementitious reinforced surfaces Overlay panels 1200 x 600 x 20mm -16mm pipe
High Density EPS500 Kpa Overlay panels
Competitively priced
Discount for larger quantities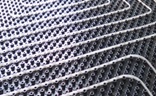 UFH Castellated Pipe fixing panels 12 to 17mm diameter pipe
UFH001CP 1220 x 820 x 30 – 100mm centres 15/16mm pipe
UFH002CP 1220 x 820 x 20 – 50mm centres 16mm pipe
Our most popular low profile castellated panel
UFH003CP 1220 x 820 x 15 – 50mm centres 12mm pipe
Available with screed holes if required. Ideal for self levelling compounds.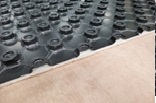 UFH panel plus EPS insulation
UFH -OVERLAY PANEL EPS500 Kpa 1200 x 600 x 20 – 16mm pipe 150 ctrs Double returns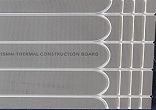 UFH – OVERLAY – REINFORCED CEMENTITIOUS SURFACES XPS-FR 400 Kpa 1200 x 600 x 15mm – 10mm pipe Straights and double returns
UFH – OVERLAY – XPS-FR 400 Kpa 1200 x 1200 x 18mm & 25mm – 12mm and 16mm pipe – Double returns